Be a Campus Ambassador and Earn with Us
Summer Internship Program 2023 by iHUB at IIT Roorkee
Live Programs and Courses!
Learn at your own pace and prepare yourself to excel! Be it training, internship, certification or placement, Diginique is there to train you!
Project Based Summer Internship Program 2023 (Registrations Open)
Mode: Instructor-Led Online
Category: Internship and Training
Onboard Training: Two Weeks
Take Home Project: 30 Days
Compulsory Certification: 45 Days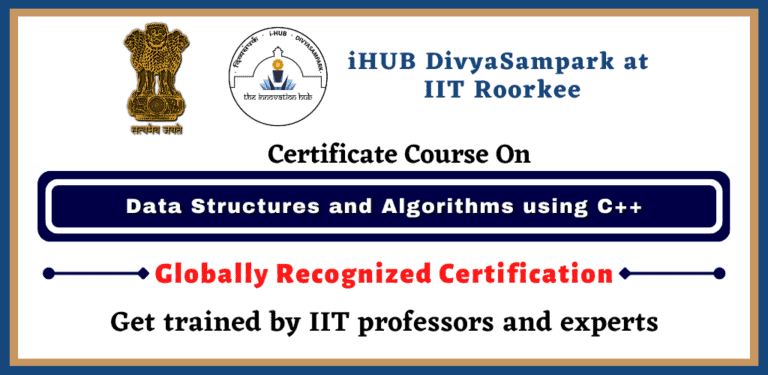 Data Structures & Algorithms using C++
Mode: Instructor-Led Online
Category: Certificate Course
Last Date to register : Apr 30, 2023
End-to-End Placement Program
Mode: Instructor-Led Online
Category: Placement Program
Last Date to register : May 14, 2023
Reputed organizations/ Institutions associated with us!
Learners Benefitted so far!
College Students Placed, Average CTC 7 LPA
Internship Offered, Average Stipend, 25k/month
Jobs Upgraded Average CTC 12 LPA
Workshops and FDPs conducted all across the globe!
Diginique TechLabs ensures you to provide the world-class and highly satisfactory quality training and the best technical courses. We prioritize the individual's learning and this is all that makes us unique from the crowd.
Being one of India's leading organizations in the field of modern age technologies, our team members are well-versed with the latest technologies and make sure that they exploit technological trends while designing the new courses and delivery methods.

"My overall experience is very good, during my summer internship at Dignique TechLabs and attending their workshop at IIT Roorkee. The way of teaching was outstanding and engaging with obvious and immediate results. I learned wonderful techniques that I will use in my practice. Keep going, Diginique!!"
"My team conducted a series of 15 workshops with Diginique TechLabs at a time during our tech-fest. I am highly thankful to the team Diginique for its awesome management team and the instructors who delivered the session tirelessly continuously for two days. The feedback was up-to the mark".
"I attended Ethical Hacking and Cyber Security workshop by Diginique TechLabs at their centre. I found Diginique probably one of the most effective and efficient venture I have ever learnt from. Faculties are very co-operative, hardworking and have very good expertise in their field".
"I might be able to "do this" because I had the chance to see the getting done in the form of results. The Hands-on sessions were the most learning one as we get more time to practice Problems by applying Deep Learning skills. Overall Excellent Workshop with good delivery of contents".
"I have taken Data Analytics, Machine Learning and AI using Python course at Diginique TechLabs. The course content and management team are very good. The classroom sessions and project classes make study enjoyable. The trainer/instructor was extremely knowledgeable and very passionate".
"The instructor had a good understanding of our objectives and his materials were well suited to meeting them. It was a well delivered and presented course that was well received by the group. There was a great balance between theory and practice and the concepts were clearly and professionally explained".
"The instructor was awesome — he went through the course at an appropriate pace, had very detailed and clear explanations, and was eager to answer any questions/offer assistance throughout the week. Because of him, I would definitely recommend colleagues to take this course".